Club History
The Club was originally formed in 1926 playing in the YMCA Association, but after one year merged with the local South Western District Team to become Mortlock Park. and then back to the name Colonel Light Gardens in 1931 with the amalgamation of Colonel Light Western (1927-30, South Adelaide District & YMCA Association) and Mortlock Park (1927-30, Mid-Southern Association).
On joining the SAAFL, the wooden shed at Mortlock Park was replaced by a more respectable structure but the chimney was crooked because its builder was working at night! This structure was replaced in 1972. The Headon family were heavily involved in administering the Club for many years and 6 Headon brothers all played for the Club in the '30s. In 1931 the Club joined the SAAFL, but lasted for only 2 seasons before applying to join the SANFL.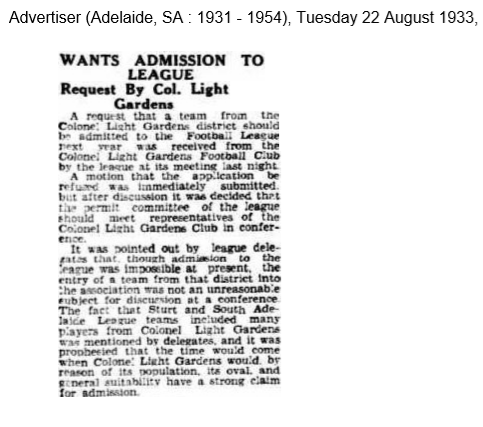 The SANFL recognised the potential of the district for developing footballers but was loathe to admit the Club immediately, and so admitted it instead to the newly-formed SA National Junior Football Association. However, it stayed only one season and then moved on to the Adelaide & Suburban Association before re-joining the SAAFL in 1937. In 1938 it was represented at state level by Sturt player and future test wicket-keeper Gil Langley, one of the Club's 5 state players. It rose to A1 and played in the finals in 3 seasons whilst also fielding teams in the Sturt District Association, but during the '60s slipped to A2 and then to A4 in the '70s before leaving again, this time to Glenelg South in 1976 where it stayed for 10 years.
Then in 1986 it combined with Kenilworth to form Kenilworth Colonel Light playing in the SAAFL, only to revert to Colonel Light Gardens again in 1991. Since then it has struggled to rise up the grades but with several junior teams it has a strong player base. In 1995 it was forced to share Mortlock Park with the Goodwood Indians Baseball Club who had their own building on site, then in December 1999 the Mitcham Council stopped the Club from using its clubrooms for social events following complaints from residents in the area. The club then shared the Baseball Clubs facilities and its own building was subsequently demolished. Magarey Medallists Mark Naley and William Dunn played for the Club, and Jack Hillary played over 350 games beginning in 1944.
Now the club is a dominant force in both seniors and juniors and continues to climb the ranks to get to its former glory.
Source:
A History of the South Australian Amateur Football League 1911-1994, Fred Bloch © 1995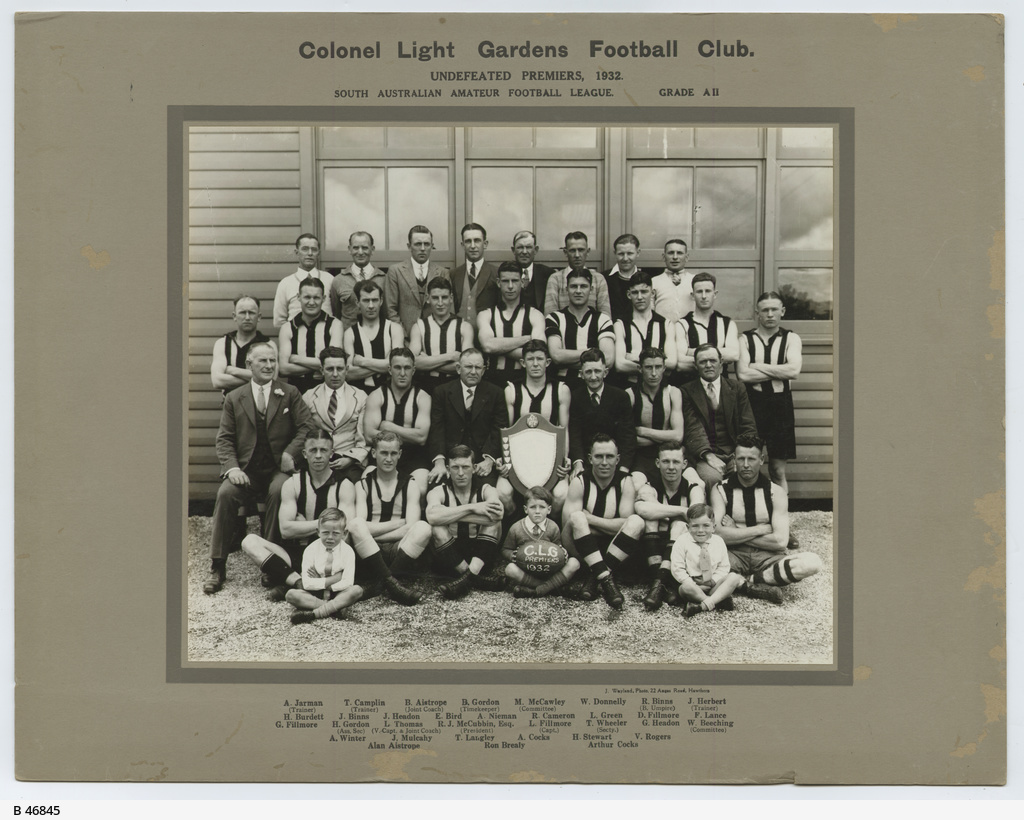 2007 PREMIERSHIP YEAR